A college football coach unexpectedly resigned last week, leaving nothing but the powerful message that "all lives matter to our Lord and Savior Jesus Christ" on his door.
Kurt Beathard, who served as the Illinois State offensive coordinator, didn't offer any detail regarding his abrupt resignation, The Pantagraph reports.
The former coach did provide the outlet with a photo of the message.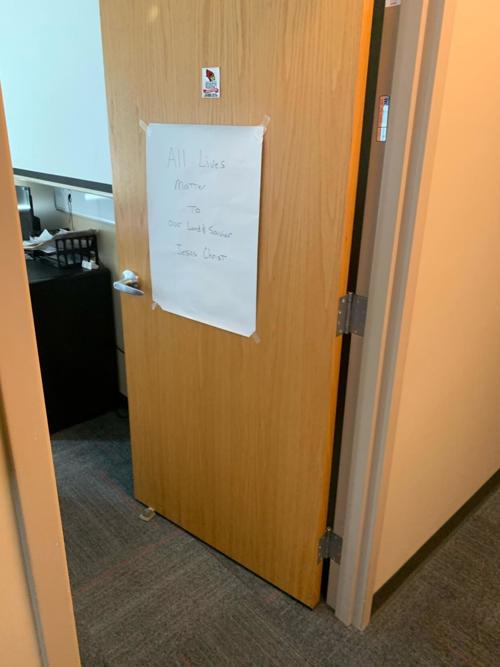 Though a direct connection has not been confirmed, Beathard's resignation came after a recent incident involving a "Black Lives Matter" poster in a locker room at the school's Kaufman Football Building.
The poster was reportedly removed without permission, the Pantagraph reports, noting that sources "asked not to be identified for fear of retribution from university officials."
"That locker room crap is wrong. I took the sign down somebody put on my door. That's it," Beathard said, denying involvement in the removal of the locker room poster. "I didn't take anything off that wasn't put on my door. I wrote the message."
The Pantagraph continues:
ISU spokesman Eric Jome referred questions about Beathard or the incident with the poster to the school's athletic department. Redbird head coach Brock Spack and director of athletics Larry Lyons both said Thursday they had no comment because the matter was a personnel issue.
Several weeks prior, the school's athletic director said "All Redbird Lives Matter" during a video conference with athletes, sparking calls for temporary boycotts of team meetings, workouts, and practices.
A group of ISU student-athletes responded with a list of social justice demands and organized an "Athletics March for Black Voices" earlier this month.
ICYMI: ISU athletes are boycotting practice until certain demands are met following AD Larry Lyons "all lives matter" message. Bravo. pic.twitter.com/dVpZCUdfRO

— Kalley (@kalleydiane) August 31, 2020
Lyons, a 30-year veteran of the school's athletic department, apologized at the time.
"I ended that by saying what my intention was: you all matter to me," he said.
"I'm cognizant of Black Lives Matter," Lyons concluded. "When you wrap all those services and all those programs put together, that's important too. It's important we deal with some of those other issues. I made a mistake, and I tried to wrap it into something (and it was) offensive to student-athletes."
If you appreciate the work we are doing to fight the leftist assault on our values, please consider a small donation to help us continue. Thank you so much!
Sponsor