The search suggestion autocomplete on the ubiquitous search engine Google suspiciously fails to generate any negatively suggestive keywords for the terms "BLM" and "Black Lives Matter."
According to a report by Breitbart, Google only offers one search suggestion, "BLM israel," when users search for the phrase "BLM is."
"It does not show a long list of suggestions, which is unusual for a popular search term and suggests that a list of suggestions formerly existed but was removed," Breitbart reports.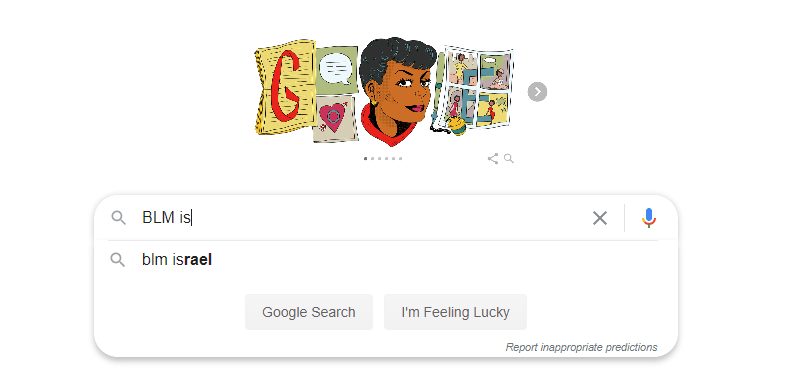 If one types "BLM is " with a space after "is," the site then generates no search suggestions at all, something Breitbart argues is "highly unusual" for a search term that has recently received such a massive spike in attention from users.
Google's search suggestions are typically generated automatically based on how often and how recently users search for specific phrases.
If users spell out "Black Lives Matter is," Google then returns a few results which again are positive in nature, including "not a design challenge" and "a revolutionary peace movement."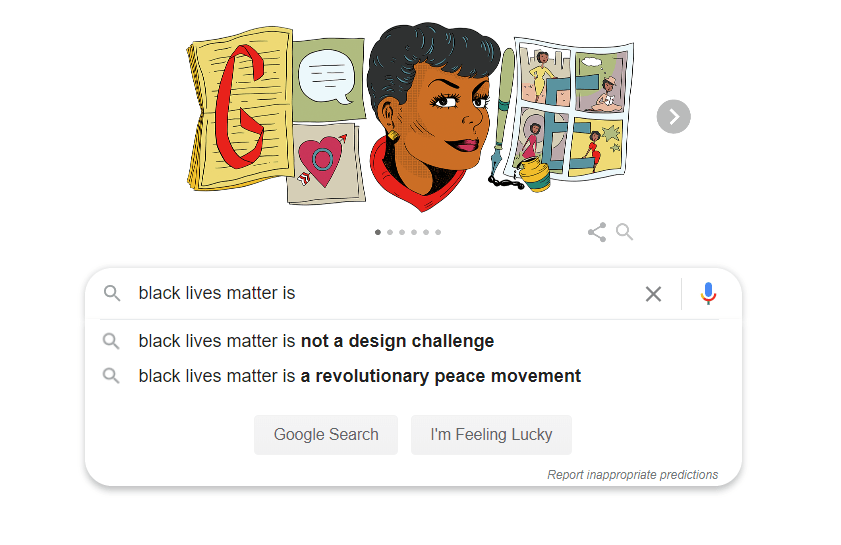 On DuckDuckGo, a competitor search engine that touts its protection of users' privacy in stark contrast to data-devouring behemoth Google, searching for "BLM is " generates a more natural-looking list of suggestions, some of which are negative.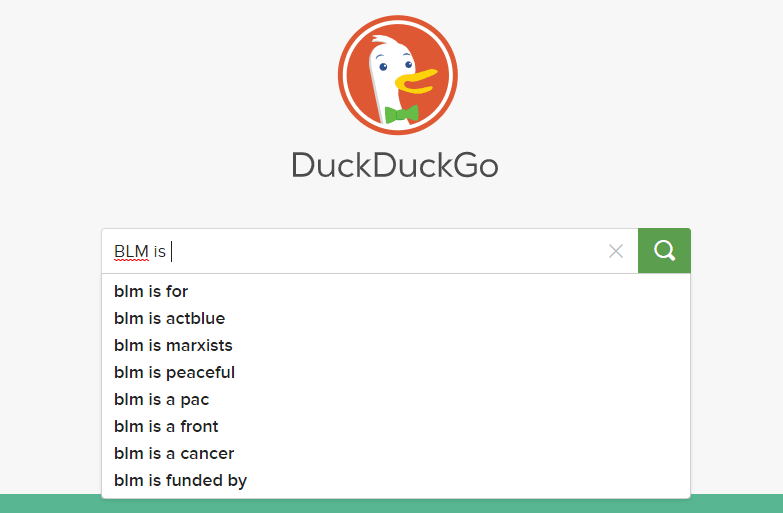 DuckDuckGo offers users suggestions like "BLM is actblue," "BLM is marxists," "BLM is a cancer," "BLM is a front," and "BLM is funded by."
As for actual search results regarding BLM funding, which we've reported in the past gets lavishly spent on salaries and travel for its board, DuckDuckGo's top three results are articles from conservative websites, including Breitbart.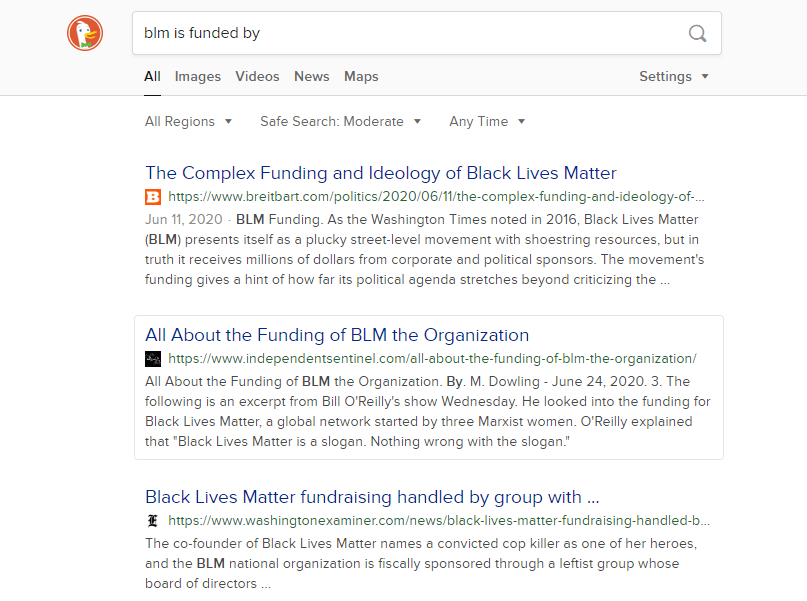 On Google, conversely, the top results are Wikipedia, which Breitbart argues is "dominated by left-wing political narratives," and Popular Democracy, "a left-wing advocacy organization."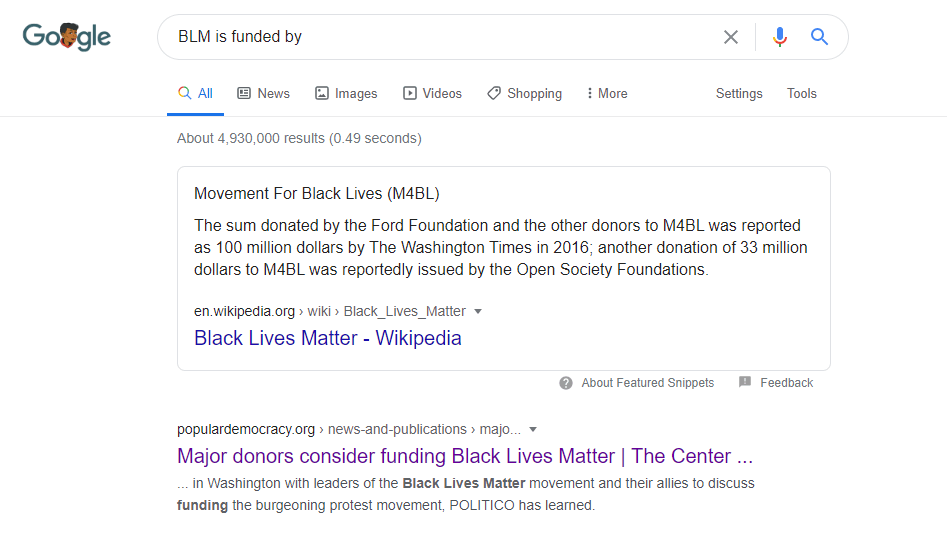 It's not just DuckDuckGo casting Google in an awfully suspicious light, either.
Even Yahoo! and Bing, two mainstream competitor search engines, also generate their fair shares of negative search suggestions for the same phrase.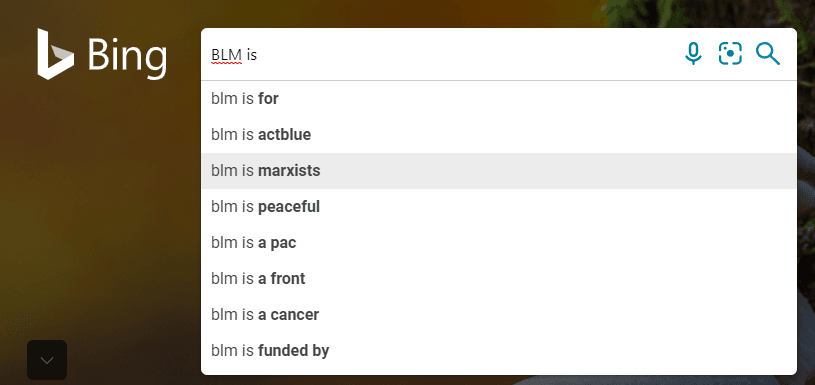 Although Breitbart could not independently verify the claim, some Twitter users reported that Google searches for "BLM is " previously generated a similar list of search suggestions to DuckDuckGo, but that the suggestions were apparently removed the next day:
Aaaaaand it's gone. gOoGle Is UnBiAsEd pic.twitter.com/YRwHHgAmIT

— TheDonald.win (@thedonalddotwin) August 31, 2020
This is little more than another reminder that social engineers will employ any tactic to influence and shape even the very information upon which we would base our thoughts and opinions.
Don't fall for it, folks.
If you appreciate the work we are doing to fight the leftist assault on our values, please consider a small donation to help us continue. Thank you so much!
Sponsor