Protests and rallies have erupted across California with legions of citizens calling for an end to Governor Gavin Newsom's stay-at-home order.
According to Fox News, Huntington Beach saw a protest of at least 200 demonstrators on Friday, echoing the cry of previous protests in Michigan, Ohio, and others to reopen shuttered businesses and lift draconian restrictions on daily life as a means of slowing the spread of the novel coronavirus.
Protesters were seen carrying signs and placards that read "Defy Fascist Lockdown," "Stop the Tyranny, Open California," and "We Deem Our Governor Non Essential."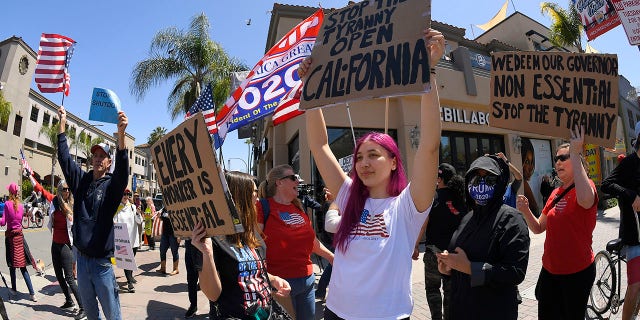 "I don't think there's any reason for us to be on lockdown now," Paula Doyle, 62, of Costa Mesa told the Los Angeles Times. "We didn't have any dangers. We have no danger in our hospitals now of overflowing."
As of late Friday, Fox News reports, California had more than 29,000 confirmed cases of coronavirus with just over 1,000 deaths.
Gov. Newsom issued his stay-at-home order March 19, making him one of the first governors in the nation to do so. Now, that move has been credited with keeping California's infection and fatality numbers relatively low in light of its massive 39.5 million population.
The state has reportedly yet to see an overwhelming surge in COVID-19 hospitalizations and instead is seeing scores of healthcare workers laid off or furloughed.
Gov. Newsom hast recently stated that he expects to loosen the stay-at-home order, but did not give a specific date, instead simply saying, "Ask me in two weeks."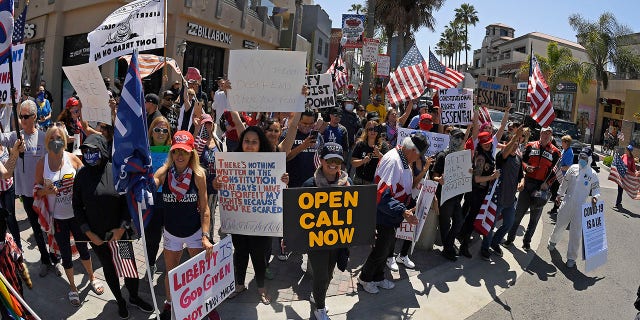 "The models have changed because of your behavior," Newsom said, crediting Californians' compliance with the order in the bending of the coronavirus curve. "This will not be a permanent state."
Protesters in Huntington Beach, however, say that the state of sheltering in place should end now.
"It's not dangerous out here. It's not," Benny White, 33, of Compton, told the L.A. Times. "I've seen plenty of people out here. The beaches are open. It's a nice, beautiful day. What are we doing? Stop being a germophobe."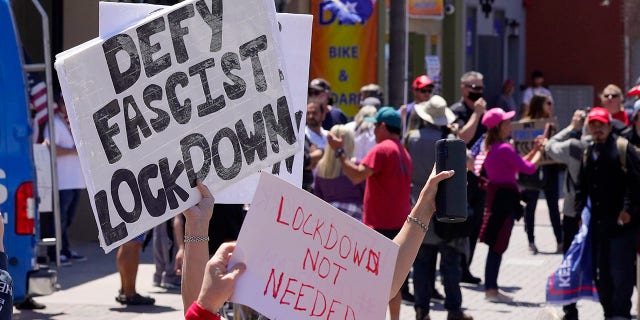 According to the Orange County Register, police asked the crowd to break up within a few hours of the start of the protest.
Huntington Beach demonstrators were not alone, however.
Similar protests cropped up in San Diego:
Happening Now in San Diego in response to closing walking trails and beaches. #COVID19 #corona #encinitas #sandiego pic.twitter.com/ukmyMbx2yq

— Chad Ellsworth (@chad_ellsworth) April 19, 2020
And in San Clemente:
#OpenCalifornia San Clemente CA – marching for our freedom. #EndTheLockdown pic.twitter.com/SacxHtiNig

— Pinklight (@pinklight999) April 19, 2020
In Sacramento, the state's capital, a protest similar to Michigan's "Operation Gridlock" is planned for this afternoon:
It's ON, tomorrow (Monday April 20), high noon, Sacramento, CA — the people are taking the state back from the Pharma cartel! ✊ #OperationGridlock #OpenCA #OpenCalifornia #OpenCalifornianow #openCalinow https://t.co/KrHx73ouER

— Toby Rogers PhD, MPP (@uTobian) April 20, 2020
Gov. Newsom, however, doubled down on his order in the face of protests.
"We are going to do the right thing, not judge by politics, not judge by protests, but by science," Newsom told the Los Angeles Times, encouraging Californians to "practice your free speech" while following social distancing guidelines.
"I just want to encourage people that when you practice your free speech — which I don't [just] embrace, I celebrate — just do so safely," Newsom said. "This virus knows no political ideology. It doesn't know if you are Republican or Democrat, supporting the president, opposing the president, so practice physical distancing."
If you appreciate the work we are doing to fight the leftist assault on our values, please consider a small donation to help us continue. Thank you so much!
Sponsor