It's so tempting to feel defeated when state after state and town after town passes measures to protect, or even expand, a woman's "right" to have her own child murdered.
Protecting the right to life of its citizens, no matter their age, is the most basic, fundamental function of any government.
At the federal level, the Supreme Court has eschewed that responsibility under Roe v. Wade. At the state level, legislators range from well-meaning to hypocritical to outright bloodthirsty in their stances on abortion and, as a result, unborn children remain unprotected.
With that, it's up to individuals to call on their town and city governments to take a stand against this holocaust.
Waskom, a small Texas border city, is doing just that.
Waskom has become a "Sanctuary City for the Unborn" after passing a resolution and ordinance that rightfully outlaws any organization that performs or assists in obtaining abortions.
The ordinance, passed unanimously by the five-member city council, has officially declared entities such as Planned Parenthood, NARAL Pro-Choice Texas, and others to be "criminal organizations."
One can hardly think of a more appropriate label for organizations that either commit or facilitate wholesale violence against the tiniest, most innocent human beings.
According to Fox News, Waskom's ordinance was modeled after a similar resolution passed in the city of Roswell, New Mexico. The 2,200-person Texas city's ordinance is even more effective, however, because it actually bans abortions within city limits.
"The Supreme Court erred in Roe v. Wade when it said that pregnant women have a constitutional right to abort their pre-born children," the ordinance reads, in part.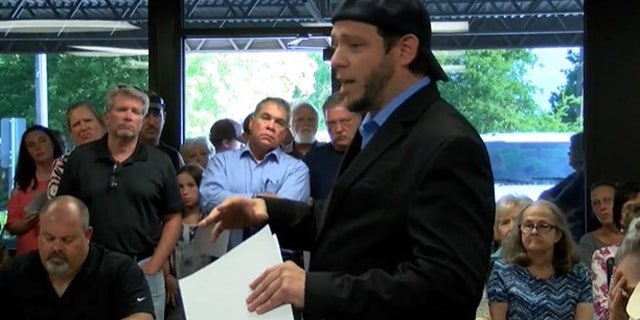 Mark Lee Dickson, the director of Right to Life of East Texas, presented the sanctuary city for unborn children ordinance to the five-member city council. (Photo: KTAL/KMSS)
Mark Lee Dickson, director of Right to Life of East Texas, first presented the concept of a sanctuary city for the unborn to the city council after finding himself frustrated that with Austin city officials' total unwillingness to pass any "meaningful legislation that protects unborn life."
"This is why we had to take things into our own hands and take it to the grassroots level," Dickson told Fox. "Due to the recent pro-life legislation in Louisiana being so strong and due to the risk of an abortion clinic one day moving to Waskom, Texas, we decided to do something to protect the city, which was passing an ordinance outlawing abortion in Waskom, Texas."
This is not the first time abortion advocates have been shown the door in Waskom, Dickson added. In the past, he says, an abortion clinic was looking to move to Waskom, which would have served a 200-mile radius and made the city a hub for abortion in the region.
Fox News adds:
In the city, known as "The Gateway of Texas," Dickson said city officials would not make it a destination for abortion but instead focus on the Bible verse Amos 5:15, which says, "Hate evil, and love good, and establish justice in the gate."

The move came two days after a right to life group held a rally with the First Baptist Church of Waskom against abortion.

"What city, what county, what state, is saying to the federal government, 'here, we will no longer murder our babies?'" said Rusty Thomas, the national director of Operation Save America, a Christian conservative group. "Hey, Washington, D.C., you can do whatever you want to do. For this town, we're saying no babies will be aborted. Not under our watch."
This is absolutely incredible! God bless Texas!
If you appreciate the work we are doing to fight the leftist assault on our values, please consider a small donation to help us continue. Thank you so much!
Sponsor